Courses fitness center Riedbad Bergen-Enkheim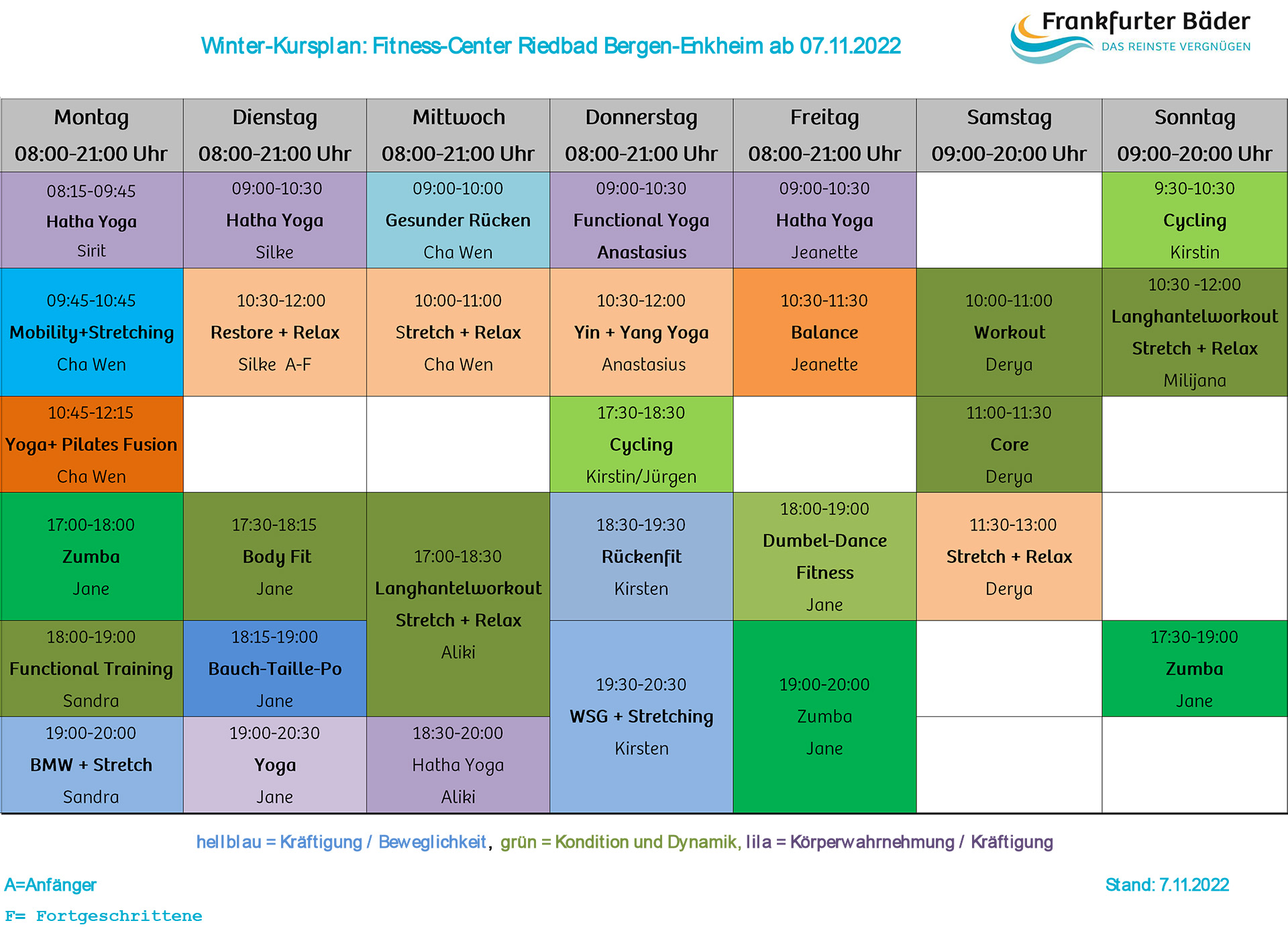 BBP (Bums-Bums-Bums) & Stretch: Targeted strengthening and toning exercises with and without aids for the special zones of stomach, legs and buttocks.
BMW – The stomach has to go!
tummy-waist-bottom: Targeted strengthening exercises for all muscle groups are carried out with and without aids.
body fit : Varied and demanding full body workout. Suitable for everyone.
CORE training: Improvement of body stability and coordination through targeted training of the muscles in the center of the body
barbell training: A very effective full body workout in a group with barbells to improve endurance, with music and fun.
Indoor cycling: An endurance training program to energetic music on stationary bikes. Participants choose resistances according to their level of fitness.
Step & Style: Is a mixture of endurance training with easy step sequences and strengthening exercises for the whole body with and without aids (dumbbells, bands, etc.).
Workout: Strengthening and mobilization of the support and musculoskeletal system. This course is suitable for anyone who values ​​improved posture.
WSG (spinal gymnastics): Mobilization, mobility and stabilization of the back is the aim of these courses. Particularly suitable for participants with mild to moderate back problems!
Yoga: Find inner peace and balance through relaxation, breathing, concentration and strengthening exercises. Through your physical development you will achieve an increased sense of well-being and an improved quality of life.
Power yoga: Power Yoga is a dynamically strengthening yoga style.
It helps people to find access to themselves through their bodies, to become clearer and calmer and thus to give them more energy, liveliness and freedom.
Zumba: Zumba is a mixture of aerobics and predominantly Latin American dance elements.
Physio stretch: This is where muscular and fascial tensions are relieved. For a pain-free life and more mobility. Suitable for everyone. Combination of stretching and strengthening
Functional Training: Is a full-body workout that is easy on the joints, in which primarily complex movements are trained instead of individual muscles.
Fitness in the Riedbad, Tel.: 0 69 / 27 10 89 - 16 05 or www.frankfurter-baeder.de